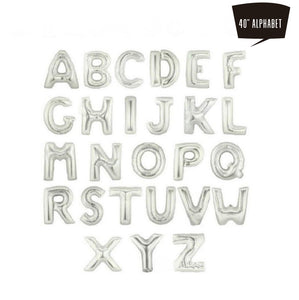 [40 Inch Alphabet Foil Balloons] – Silver Foil
The 40" Foil Number Balloon can be a big surprise for your parties. Its good for proposal, wedding deco, birthday party, desert table decoration, company events, etc
Price Includes:
- [40 Inch Alphabet Foil Balloons] – Silver Foil
- Helium Inflated 
Total: $15
1) 40'' Alphabet Balloon Flat Packaging or Air Filled @ $7.50 each
2) 40'' Alphabet Balloon Helium Filled $15 each
1) Helium-inflation (& tied with Balloon String) allow balloon to float. Floating time is about 2-3 days for indoor; 24 hours for outdoor. (Depending on weather condition/temperature and how balloons are being handled and transported) Long ribbon will be tied to the balloon and balloon weights is provided to hold the balloon down
2) Balloon Size: 40"
3) Shipping options
a) Uninflated : Mail/ Delivery/ Self-pickup (At our office, by appointment only)
b) Inflated: Meetup / Delivery/ Self Collection only
18 Sin Ming Ln, #08-16, Midview City, Singapore 573960 - Take Lift From Sub Lobby 26
Warning: Adult supervision is required as uninflated balloons can be a choking hazard. Keep uninflated balloons out of reach from children and discard broken balloons. Do not inhale helium gas at all time, it can be a health hazard. Should any balloon(s) not be available, Bloop Balloons will substitute with balloon(s) of similar colour and equal value. **we will not refund or exchange any balloons 1hr after the balloons are collected or delivered.
Life is too short to live without the [40 Inch Alphabet Foil Balloons] – Silver Foil. Be happy. Be Content. Be Satisfied.

Inventory Last Updated: Dec 11, 2023
---
We Also Recommend