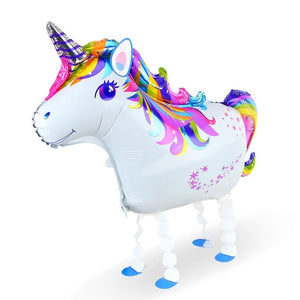 Walking Pet Animal Balloon - Rainbow Unicorn
Walking Pet Animal Balloon is great for your kiddo birthday party celebration, themed party, 1st birthday, keep them entertained for long period of time while you do your work 
Material: High quality Mylar Foil
Balloon comes with Self Seal Valve to prevent leaking of gas. Fast, easy and convenient.
Size: Approximately 23inch
The balloon will be helium filled. Helium filled will make the animal stand/walk for approx. 24 hours


Walking/Standing Time: Approximately 24 Hours, depending on weather condition/temperature and how balloons are being handled and transported
Long ribbon will be provided and attached to it. So that your little one can walk the balloon animal around freely.
Balloon is weighted (Please DO not pull out the legs) 
Please DO NOT let the walking animal walk on grass, there might be sharp edges that will cause the balloon to burst 
Warning: Adult supervision is required as uninflated balloons can be a choking hazard.
Keep uninflated balloons out of reach from children and discard broken balloons.
Do not inhale helium gas at all time, it can be a health hazard. 
The Walking Pet Animal Balloon - Rainbow Unicorn is evocative, to say the least, but that's why you're drawn to it in the first place.

Inventory Last Updated: Dec 08, 2023
---
We Also Recommend